by Taavi Kuisma on Jul.03, 2009, under Headlines
Hi Y'all,
Decided to combine weeks XI and XII this time. Time goes by real fast and we need to keep moving along. Time is money as they say and there is no time to spare. For this week's edition decided to drop less detailed pics and stay with the "everyday life theme". The jeans have gone through soaking and washing and have adjusted really well. I do have to mention though that I have given the jeans a stretch after each wash to maintain the waist size as it is and to make sure there is still some room for slight shrinking.
To start off, we hit the parks this early evening. I mean evening right now is like your typical afternoon. The sun just doesn't want to set, heh. But hey it's summer, sun and warm weather. It's all good.

Open green space. Not crowded with people may I add. Normally there would be at least few individuals sunbathing on a spot like this, but today none. They say looking at green things such as grass is good for your vision, not sure if that's just some good ol' bs but it looks nice, heh.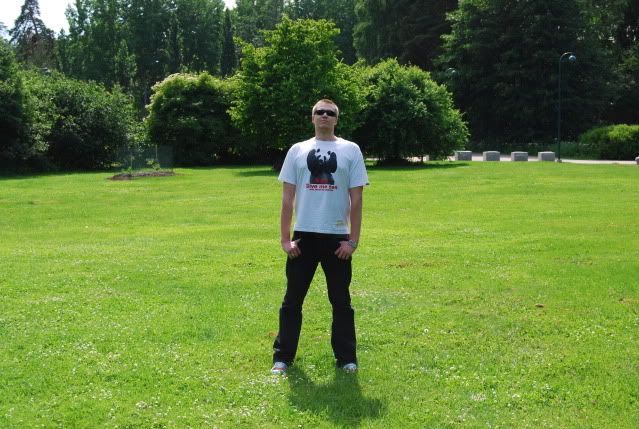 This image should give some idea on the jeans' current status. Don't let the sunlight fool you though. The jeans still have a nice dark color, however in certain light the jeans have a much lighter blue color. The picture turned out pretty interesting as it shows the different shades of the jeans but also highlights the more worn parts.

A bit closer look.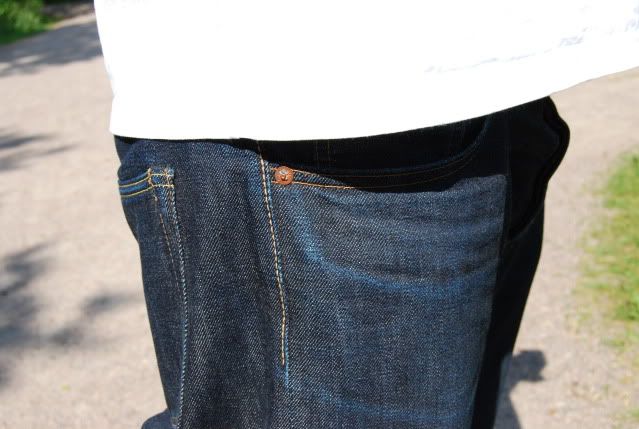 One pick from the back. And yes, I do sag my jeans a bit, heh. Old habits die hard I suppose.
As I might have mentioned, the jeans slimmed down a bit after the initial soakings. Some might remember the jeans had a bit baggier look to them prior to washing. However the slimming was not all too much and I actually think the current fit is very nice indeed. Classic straight leg jeans, heh.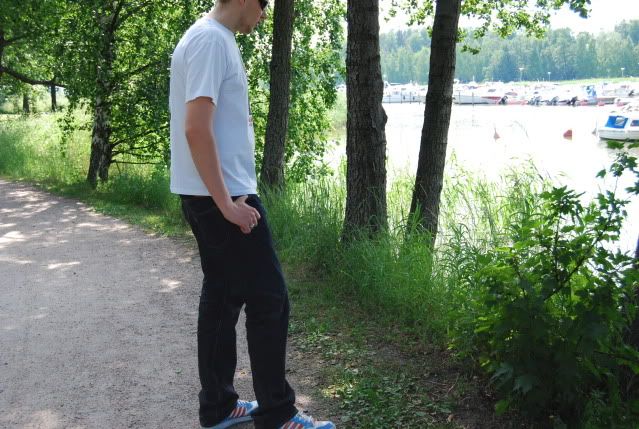 I think in a week or so I might give the jeans another wash. Summer weathers are rather warm and I like my jeans fresh, heh. Will post some more pictures, perhaps more detailed ones next time.
That's all for this "everyday life -edition" of Vintage 0901. Keeping it busy, finding inspiration from everywhere and staying focused we head towards the first weekend of July. Be easy everyone. I'm out…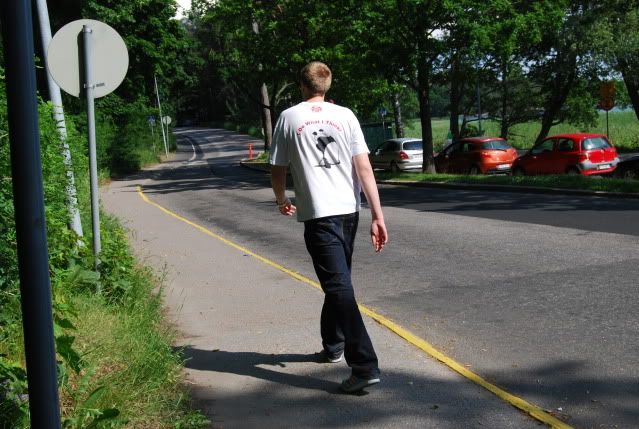 :Momotaro, Momotaro Denim, Momotaro Jeans, Vintage 0901