by Taavi Kuisma on May.25, 2010, under Fashion and style, Headlines
What's good?
We have finally added the new shirts from KIKS TYO to out website.
Pictures never do the shirts justice, no matter how hard we try, still the shirts always look better in person. Below few pics and more details on the new tees.
One of the fresh faces for the KIKS TYO Sneaker x Girl series is Nanami. This young gravure model has that girl next door look that was visualized in one of the new shirts aptly titled, Girl Next Door.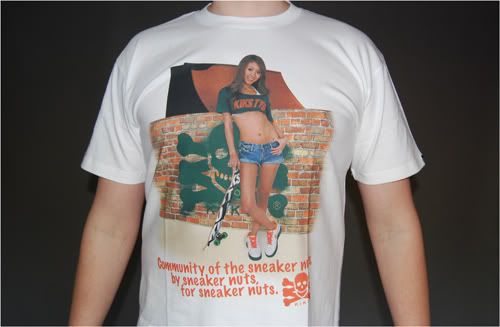 The tee features Nanami rocking a pair of Thailand exclusive CT Air Force 1's, a KIKS TYO logo tee and denim shorts. KIKS recent skateboard collaborations are also highlighted with the SB theme of the shirt.
The other fresh Nanami shirt is the Black Wings.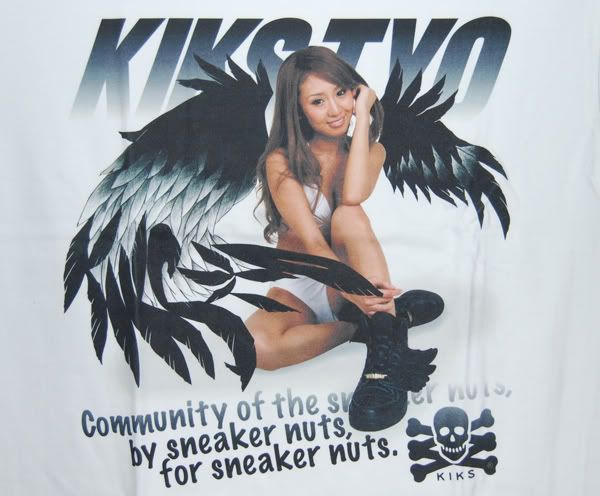 Just like the Yuu Tejima collaboration titled White Wings, the shirt is inspired by the Jeremy Scott JS Adidas Wings shoes, which Nanami is rockign in addition to the all white bikini. The picture also features wings drawn by SP Nakatema, a Japanese manga artist. Below a picture of the White Wings just to freshen your memory.
The third new tee is the KIKS TYO Cut Off Tee, a fresh tee for the summer weather.
The tee has rolled sleeves and a colorful KIKS TOKYO text printed on the front.
We've been working on the site's touch ups and more will follow. You can now find summaries of the available brands in the Our Brands section and hopefully ever increasing number of used vocabulary in the What? section. Let's see what else we come up with but now I must run. Take a look at the fresh tees and enjoy the summer weather. I'm out, peace.
:Adidas, Black Wings, Girl Next Door, KIKS TYO, KIKSTYO, Nanami, Nike