by Taavi Kuisma on Jun.03, 2010, under Headlines, Kicks, Sports
Greetings earthlings!
The NBA finals are tipping off tonight and yours truly is feeling like a kid before Christmas. I would very much like to watch every single game, but then again I think I would not be able to cope with my daily duties if I did. Well, there are always reruns, summaries and results. But that's not the same, damn it as I write this I am starting to feel like watching the damn finals. I MUST! GO LAKERS!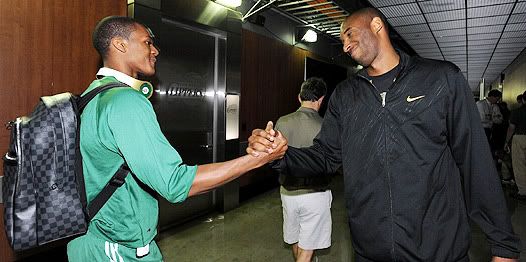 Picture courtesy of NBA.com
The duel between Lakers and Celtics has a history long as NBA itself and I was just talking about the battles between Lakers and Celtics of the past. You know, Larry Bird, Magic Johnson, Kareem Abdul Jabbar, Jerry West and so on. But today it's all about Ray Allen, Kevin Garnett, Paul Pierce, Rajon Rondo and the guys from Celtics and Pau Gasol, Derek Fisher, Ron Artest and of course Kobe Bryant on the Lakers' side.
I still remember the bitter loss to Celtics back in 2008 but fortunately Lakers' good game last season made me forget all about the 08 season. This season has passed in a flash and while Lakers have played very, very good B-Ball, Celtics are not far behind. Well both teams are in the finals so, duh.
With the anticipation of the Finals, Nike has been working long hours to make sure Kobe Bryant is looking his best, including his kicks.
On that note KB24 released sneak preview pics of Kobe's new Finals Kobe V sneakers. Kobe's going after the gold and the gold trim is representing this. Needless to say the team is motivated to bring home the trophy and the shoes' gold adds to this motivation.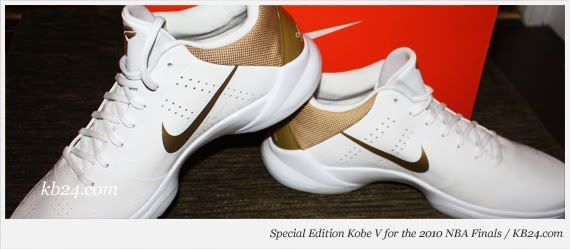 Pictures courtesy of KB24.com
The battle is about to begin, so who are you rooting for? Lakers or the Celtics? Let me know and let the dishing begin! It's on like Donkey Kong!
:Celtics, Kicks, Kicks Edition, Kobe Bryant, Kobe V, Lakers, NBA, NBA FInals, Nike