by Taavi Kuisma on Sep.13, 2010, under Comics, Design and Artwork, Headlines
On September 14th Chateau de Versailles will open a much talked about Takashi Murakami exhibition. The exhibition will feature plenty of artwork from the artist ranging from sculptures to paintings and everything in between.
What makes it interesting is that the exhibition is held at a very traditional environment featuring very traditional artworks. The introduction of the anime/manga inspired artworks has caused a plenty or talk and comments especially from the traditionalists whom think these artworks do not belong in such an environment. Personally I find the exhibition a fresh approach and I salute the daring approach of the organizers. Art is in the eye of the beholder and I do not think it is reasonable to limit the presentation of different forms of art simply based on the style. Although of course some sensitivity should be applied in certain cases but this is surely another landmark/milestone reached by the Japanese artist.

Pictures courtesy of Hypebeast/Ugly Melly.
The exhibition will run until December 13th. The Murakami exhibition is present at Chateau de Versailles in Versailles, France. So if you happen to be in the region, do stop by to take a look what all the fuzz is about.
Below few more pictures courtesy of Billionaire Boys Club from a private dinner for the exhibition at Versailles. Salute to Nigo whom wore a custom made silk kimono for the occasion. For more pictures of the event, click the pictures.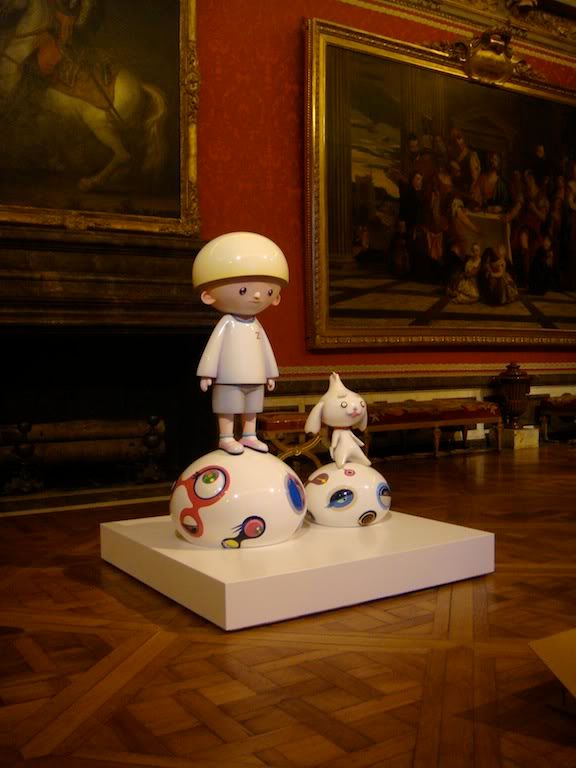 Pictures courtesy of bbcicecream.com.
So what do you think about such mix of different forms of art? Should Murakami's artwork be presented elsewhere or should the art world open their eyes and mind for crossovers such as these? Give us a shout, we love to hear from you. Peace!
:Art, Chateau de Versailles, Takashi Murakami