by Taavi Kuisma on Sep.17, 2010, under Headlines, Toys, Games and Gadgets
Back in the day it was all about He-Man, Turtles and Transformers and I'm pretty sure that there are no 80′s babies who can watch this clip without getting good vibes.
But it's a different ballgame today. The new millenium kids got totally new action heroes and toys to match. Of course some things don't ever change and I'm pretty sure the kids today are as excited as we were back in the day when they get a Batman, He-Man, Turtles or GI-Joe action figures, old or new. Of course this is a perfect opportunity to relive your childhood and get all the cool stuff available today. I mean I hope you didn't miss the STORMTROOPER SUPER SHOGUN.
Now I know there are some whom cringe their teeth on the idea of giving collectible toys to their kids, but I'm pretty sure I could get my kid a 1:6 Barney Ross collectible action figure. Although after getting it, I would probably keep it myself.
Not the first time I have posted the pics of the Hot Toys products but the Expendables collectible is just crazy. I showed the pics to some of my friends whom are not so much into collectible toys and they went crazy like, what they have Expendables action figures? Precious. I was also wondering if your kid has a Barney Ross action figure and his friends got the basic transformers or Pokémon, will he have an elevated status or will it be just another action figure? Usually kids have a totally different perceived values when it comes to toys. It's probably the crazy fathers who want to buy the "toys" to their kids so that they themselves can buy the stuff. I mean my baby will not be playing with action figures for many years but I'm already going through all the cool stuff I could buy for him (or myself). Barney Ross action figure would be damn cool on my desk!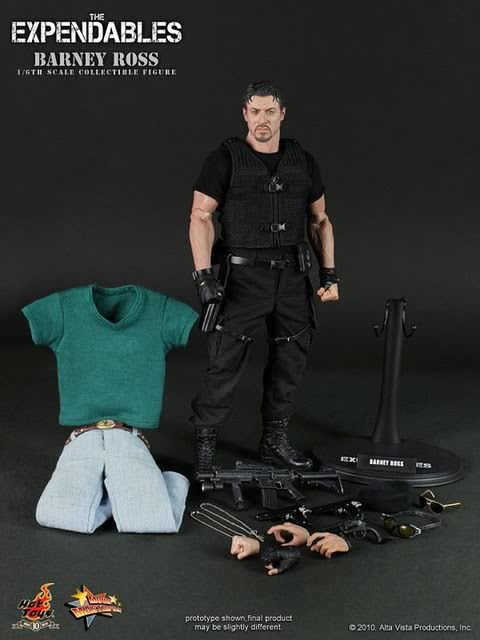 Pictures courtesy of Hot Toys.
Switching back from action figures to the collectibles department, I saw this awesome picture at J.M.E.'s Facebook Page. Dissected Super Mario as you might call it. The dissected Kaws figures are cool but so is this.
This is more like art, no toys but art. I mean should I have more space I would also have plenty of these "statues" or figures as you might call them.
All good, that's all for this edition. I think my psyche is getting prepared to fatherhood since I'm posting more and more stuff on toys. But that's all good. I'm leaving you with the most hilarious thing I saw today. The picture comes courtesy of TheOneCam. You can do so much with a camera and Woody. Peace, T.G.I. Friday!
:Barney Ross, Collectibles, Expendables, Hot Toys, Super Mario, Toy Story, Toys