by Taavi Kuisma on Nov.25, 2010, under Fashion and style, Headlines, News & Events
Yesterday I posted an ad that showed a sure-way to get what you want for Christmas. Well, if you're having tough time thinking about what to get to yourself, your significant other, your kids or siblings, we have some ideas that might help you. We have finally (I know it's been a while) added fresh KIKS TYO tees on the online shop as well.
This stellar selection includes limited edition releases such as KIKSTAGE x Aya Kiguchi, Kana Tsugihara's FLOM and Box Chair as well as new Shanadoo collaboration featuring Boks-Kun designed by Jor.
The FLOM tee is one of the most coveted tees of the recent past and I'm pretty sure it's not just the kicks in the picture that count. Whether it's For Love Or Money, this shirt's a winner.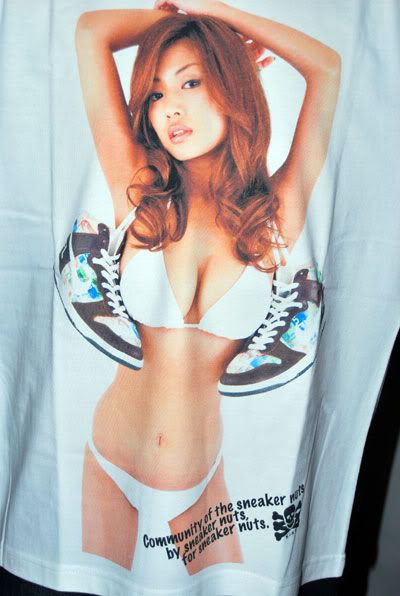 The Box Chair tee also features gravure model Kana Tsugihara, this time in a pair of Jordans making a very good use of a pile of sneaker boxes. In case you were wondering what to do with your sneaker boxes, just pile them up and use them as furniture.
The Shanadoo collaboration cheers me up not just for the colors (and Shanadoo) but because of the Boks-Kun grin as well. He's all smiles.
Last but definitely not least, we have the KIKSTAGE collaboration featuring KIKS TYO's favorite girl Aya Kiguchi. The shirt is the KIKS TYO version of the KIKSTAGE collaboration. The collaboration produced a STAGE version as well, which is sold out in most locales retailing Stage Hyaline of the World. The lovely "lion" in the picture by the way is Karter, Stage's mascot. Fresh colors and awesome print. This shirt is among my favorites.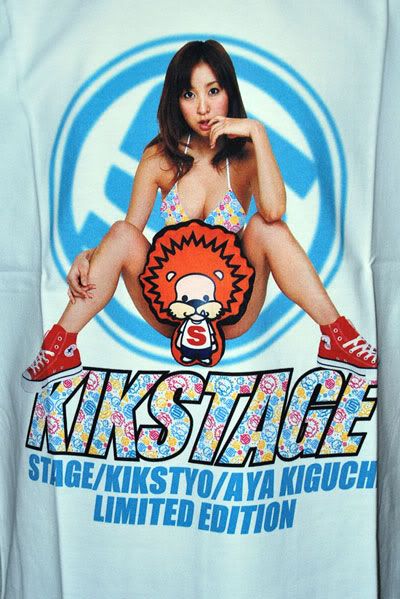 We're not finished with the new goods, but it takes some time to get the shirts online. The idea is to bring a set of QUOLOMO x MOSATSU tees on the site as well. No later than tomorrow. Mark my words. But until then, stay safe and take care of you and yours, it's cold outside.
:Aya Kiguchi, Boks-Kun, Box Chair, FLOM, Kana Tsugihara, KIKS TYO, KIKSTAGE, Shanadoo, Stage