by Taavi Kuisma on Nov.04, 2010, under Fashion and style, Headlines
Following the grand opening of the Seleven NYC, the store has gotten plenty of exposure around the web especially in the blogs. Without a doubt, the store is worth all the buzz. I have been checking the store's happenings through the store's Facebook channel and I must say, I really like the look and feel of the store. Don't let the "modest" outside view fool you, it's all about the content and what you find inside the store.
Packed with Red Monkey (RMC Martin Ksohoh), Yoropiko and MKWS (Martin Ksohoh Workshop) goods, the store has a similar look and feel to the Seleven stores such as Seleven Gallery in Hong Kong. I have visited Seleven in Hong Kong but have not had a chance to visit the NYC locale or the Taiwan boutique just yet. Nonetheless I like what I have seen this far from the store and from what I have heard from those who actually visited the store, the store is awesome in real life as well (of course even better).
There seem to be plenty of classic pieces on display, for instance the Star Wars Yoropiko.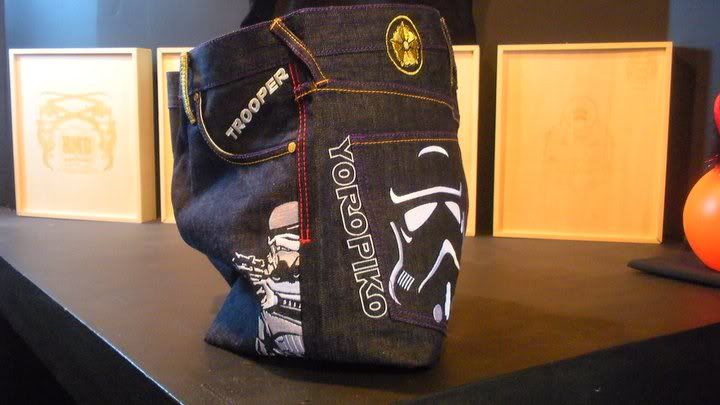 The classic wooden boxes seem to be all over the place and from what it would seem, there seems to be some classic Union Special machinery in the store as well.
Cool layout of cool gear, needless to say more. Of course we would love to hear from those in the NYC, what have your experiences with the store been this far?
And if you happen to be in New York, here is how you find the place.

Pictures courtesy of Seleven NYC.
:Martin Ksohoh, MKWS, Red Monkey Jeans, RMC Martin Ksohoh, S11, Seleven Gallery, Seleven NYC, Yoropiko