by Taavi Kuisma on Dec.01, 2010, under Comics, Design and Artwork, Fashion and style, Headlines
There have been plenty of questions about the signature "Japan Lines" on the back pocket of the Momotaro Jeans Going to Battle and First Battle Labels. Momotaro has had the painted lines as their signature from early on and the Going to Battle Label has become the brand's flagship line of jeans. But where do these lines come from?
I saw a question on the topic on the Momotaro Jeans Facebook Page and thought to myself that it's good to have an answer to the question on the Nordic Denim House blog as well.
Japan Lines as a name comes from Japanese words "Nihon-sen". Although there is no clear way to refer to the two lines, the Japanese use the words Nihon-sen for two lines. As the word Nihon means Japan, Momotaro Jeans has started to call them Japan Lines. The two lines have a somewhat legendary status in Japan as already long ago the Japanese soldiers in Japan painted two lines to their flag to rouse their battle spirit but also to indicate they are genuine warriors/soldiers. Painting the two lines on the back pocket of the jeans indicates that the jeans are also "genuine jeans." The lines can be seen in plenty of Japanese artwork as well.

Picture courtesy of Sanditan.com.
Momotaro also had these lines painted on his flag as he went off to battle the Oni/Demon and this is also visible in the Momotaro Jeans artwork, not to mention many of their designs.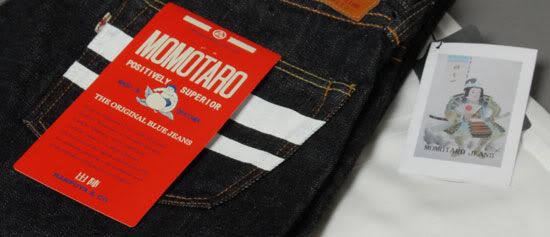 I hope this answered some unanswered questions about Momotaro Jeans and if you have more, just contact us for details.
:Art, going to battle label, Japan, Japan Lines, Momotaro, Momotaro Denim, Momotaro Jeans