by Taavi Kuisma on Jan.28, 2011, under Headlines, Kicks
Normally we share the dissected sculptures by Jason Freeny, but today I wanted to share a dissected piece of different kind. A classic shoe, redone in style. I'm of course talking about the Converse Addict Chuck Taylors. Chucks are known to be awesome kicks you can still get at an affordable price but what makes this shoe so special it costs almost three times as much as a normal pair of Converse All Star Chuck Taylors. Thus some good folks went and dissected this remake of a classic to show exactly what it is made of?
It's not just a redo of the 60's shoe but features some modern "high tech" improvements in addition to the reinforced stitching. Wear resistant, non-slip rubber Vibram outsole and additional cushioning in form of Poron in the heel. Not to mention Outlast lining for better temperature control and comfort.
The below picture shows what the shoe is about in detail. I am sure there is much more to the shoe than just the iconic status, modern materials and 60's fit. I'm sure that it's a great shoe as well.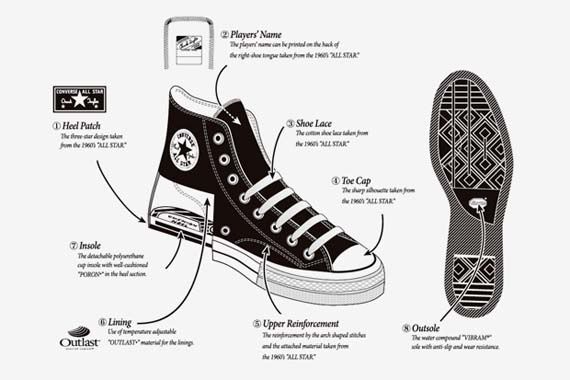 Photos courtesy of Saki Tagami via Hypebeast.
:All Star, Chuck Taylor, Converse, Shoes, Sneakers